I am so excited that today is the kick off for the ABC's of Crafting on a Budget series!  This series is packed full of fugal crafting tips and fun crafts that I can't wait to share with you.  You will want to check back often, since this post only includes letters A-E, and is part of a 5 day series.
Crafting with your kids does not have to be expensive.  Below you will find inspiring ideas that will help you stick to your crafting budget and your kids will be excited to explore new mediums.  Click on the red links to take you to the full posts and tutorials.
A is for…Art Supply Organization
Organizing your kids craft supplies does not need to be expensive.  These thrifty ideas will have you looking at your recycle bin in a new way and have your kids craft supplies organized in no time!
Check out my Art Room Tips and Tricks Pinterest Board for more thrifty organizing ideas!
B is for…Boxes
I love working with cardboard.  My favorite part is that it is easy to find cardboard for free.  For smaller projects shoe boxes, cereal and food boxes work great.  If you are looking to create something on a larger scale, scour everywhere for moving boxes, furniture packaging, shipping boxes, or my favorite the large slip sheets Costco uses to separate their pallets.  Save toilet paper, paper towels and wrapping paper tubes, which are perfect for many crafts.
If you are looking for more cardboard box inspiration, then you will want to follow my Cardboard Creations Pinterest Board. 
C is for…Crafting in the Car
I have said it before, but I love long road trips with my family.  Instead of thinking of the trip ahead as ___ hours until we get there, think of it as ___ hours of captive family time.  We drive 21 hours to visit my family, and I can honestly say that I enjoy the drive!  However, it pays to be organized.  We love a number of different activities while on the road, and yes we even craft in the car.  It may sound crazy, but even when my kiddos were tiny I packed a bag of craft supplies.  Check out some of our favorite on the go crafts.
D is for…Desk Drawer
You will be amazed with how many things can be created out of simple office supplies.  The possibilities are endless.  I would love to see my kids create open ended sculptures made from paper clips, rubber band's, binder clips etc.  Someday right:)
More office supplies that are also fun for crafting, learning and playing…packing peanuts, colored tape, dot stickers, overhead projector, and a scanner.  Think outside the box, and you will be surprised by how many things can be turned into a great craft activity for kids.
E is for…Experiments
OK so experiments are not technically crafts, but I couldn't resist!  Kids love experimenting, trying new things and learning how things work.  Plus since these are all budget friendly experiments that use supplies that you already have on hand, I thought it would be OK to include them in my ABC series.
Also be sure to check out this amazing list of experiments and follow my Science Pinterest board which is packed full of fun ideas.
Don't forget that there are about 70 other creative KBN moms participating in this exciting series.  You can go here to find the entire list of all the blogs participating.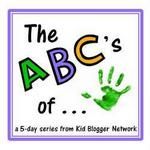 Make sure to check back every day this week, so you don't miss any of the ABC series.
Crafting on a Budget Letter A ~ E (this post)
Crafting on a Budget Letter F ~ J
Crafting on a Budget Letter K ~ O
Crafting on a Budget Letter P ~ T
Crafting on a Budget Letter U ~ Z
ARTS & CRAFTS: