Crafting with kids does not have to be expensive.  If you are looking for thrifty tips for crafting with your kids, then you won't want to miss this exciting series!  Find all the entire ABC's of Crafting on a Budget posts here.  This post includes the Letters F-J
F is for…Fantastic Gifts
There's nothing quite as thoughtful as receiving a homemade gift, especially one that was made by kids!  I think handmade gifts have the potential to be loved and cherished far longer than any store-bought present.  Check out this fun list of gift that are easy to create and will fit your budget.
G is for…Grocery Store
The grocery store may not be your first stop for regular crafting materials, however it is packed full of great supplies.  Check out these fun ideas.
Also apples, potatoes, celery, okra, peppers, lotus root and many other fruits and veggies are great for stamping.
H is for…Homemade Art Recipes
This list of wonderful Art Recipes is the perfect frugal way to introduce your child to a number of new mediums at a fraction of the cost of retail.  I love the flexibility of creating your own art supplies.
Follow my handmade Art Recipes Pinterest Board for further thrifty Art recipe inspiration.
I is for…Inventions Box
Kids love to invent and create new things, so why not make them an inventions box just for them to build from!  My kids are always building things, and having a dedicated box for all those silly parts that are perfect for making robots, airplanes etc is a wonderful idea.
Be inspired by this simple Beautiful Junk post from Growing Great Kids.  Check out her kids creations box, where her kids find inspiration.
I love this simple Junk Box. My favorite part is that she plays an audio book for her daughter while she creates.
Pink and Green Mama have a fun box set aside for creating Robots.  I love that her kids are asking to add real circuit boards to the mix!
Learning is not always about building and creating.  Give your kids a old computer, or electronic item to disassemble.  They will love having a Tech Take Apart Day.
Check out this wonderful post on Why Tinkering is Important from the Tinkerlab.
I love this Robots from Trash activity.  Your kids will too:)
What are your favorite trash/recycling supplies for creating?  Here are a few great items to get you started on creating your own inventions box:
Paper cups and plates, pie tins, cupcake liners, straws, foil, cotton balls, balloons, old CD's, cereal boxes, plastic containers, tin cans, bottle tops, toilet and paper towel tubes, milk cartons, bubble wrap, egg cartons, yarn, gems, pom poms, clothespins, pumps from shampoo bottles, missing parts from games, wire, pipe cleaners …and anything else you can think of.  If you find something interesting that does not serve a purpose anymore, then throw it in the box!
J is for…Junk Drawer
We all have it…a drawer, box or pile that is tucked away (hopefully tucked out of site when guests come over).  Everything in the junk drawer is either too cute to throw way, or it "might" serve a purpose some day.  I am here to tell you, turn your junk drawer over to the kids.  Let them have fun creating something new and exciting out of all the bits and bobbles that you have been hanging on to!  Give your junk drawer a new life:)
You can find more "Junk Drawer" creations on my Recycle Pinterest Board. 
Don't forget that there are about 70 other creative KBN moms participating in this exciting series.  You can go here to find the entire list of all the blogs participating.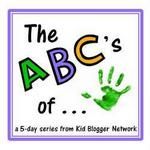 Make sure to check back every day this week, so you don't miss any of the ABC series.
Crafting on a Budget Letter A ~ E
Crafting on a Budget Letter F ~ J (This Post)
Crafting on a Budget Letter K ~ O
Crafting on a Budget Letter P ~ T
Crafting on a Budget Letter U ~ Z
LITERACY: