Welcome to Day 3 of the ABC's of Crafting on a Budget series – Letter K-O.  If you are just joining us, you will want to catch up on the entire ABC's of Crafting on a Budget posts here.
Your kitchen is a great place to look for unique mediums for your kids to create with. Most all pre-made/boxed item comes packaged in something that is useful for creating.  Check out these fun ideas straight from the kitchen.
L is for…Laundry Room
Those that know me well, know that I don't enjoy spending time in my laundry room.  Try these creative crafts and ideas for making the laundry room more exciting.
M is for…Medicine Cabinet
Turn regular items from your bathroom into a creative experience for your kids.  I love that most of these items can be bought at the dolor store, making these ideas even cheaper.
N is for…Nature
Mother Nature has an endless bounty of craft supplies, and the best part is everything is free. Another wonderful bonus is all the fresh air and exercise you will get while searching for your treasures.
Check out my Outdoor Play Pinterest Board for more crafts and ideas made from Mother Natures bounty.
O is for…Old Art Supplies
Bring new life to your tired art supplies with a these simple tricks.  I love being able to stretch my dollar even further by reusing my old art supplies in a new way.
Don't forget that there are about 70 other creative KBN moms participating in this exciting series.  You can go here to find the entire list of all the blogs participating.
Make sure to check back every day this week, so you don't miss any of the ABC series.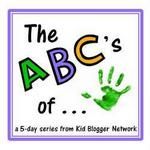 Crafting on a Budget Letter A ~ E
Crafting on a Budget Letter F ~ J
Crafting on a Budget Letter K ~ O (Today's Post)
Crafting on a Budget Letter P ~ T
Crafting on a Budget Letter U ~ Z