I have really enjoys the ABC's of Crafting on a Budget series!  I am sad to see it come to an end, but I hope that you have found some new inspiration and  are excited to go make crafts with your kids.  If you are just joining us, then you will want to catch-up by going here to find all the entire ABC's of Crafting on a Budget posts.  We are now on Day 5 and we will be looking at the last and final letters of U-Z.
U is for…Upcycled Crafts
By now you have all guessed that I love anything and everything that is made from upcyced or recycled materials.  Check out this inspiring list of crafts that can all be made by re-purposing something that you already own.
 I love making games for kids, and this simple Sock fishing Game is perfect way to upcycle up those socks that have lost their match.
Your kids will love racing their cars on this this simple upcycled Pool Noodle Race Track.
This DVD Coloring Case is a perfect way to re-use all those empty DVD cases that you have laying around.  They are perfect size for putting in your putting in your purse for on the go drawing.
Turn a pair of outgrown tights into an adorable Circle Cushions that your kids will love.  Perfect project for learning how to sew.
This simple Easter egg upcyced into Light Up Fireflies.  These would be perfect for  your next backyard party, or camping craft.
This Skateboard Swing is the perfect way to turn your dusty skateboard into something wonderful.  My kids would love to have this awesome Swing in our back yard.
V is for…Value Craft Kits and Where to Buy Supplies
Crafts supplies can be found all around us. All it takes is a little imagination and the willingness to use what you already have on hand and get a little creative with the process.  Traditional craft supplies can get expensive, so here are a few tips and tricks to stretch your dollar.
 I tend to avoid the prepackaged overpriced craft kits that are sold everywhere.  They are convenient, but like most ready made items they are more expensive than purchasing the supplies on their own.  You may be surprised to find that you have most of the items in the kit in your crafting cupboard already.  Check out these adorable kits that would all make great gifts DIY Puppet Making Kit, Sewing Kit, Make Your Own Snowman Kit, DIY Science Kit, Fort Building Kit, and a fun Friendship Bracelet Kit.
The dollar store is one of my favorite places to shop for kids craft items.  Check out this amazing list including 100 Things bought at the Dollar Store.  It is a comprehensive list of items that are prefect for frugal crafting and play.
After Christmas, I grab all the green, red, and white sequins and jewels for use on other holidays (St. Patrick's Day, Valentine's Day, winter celebrations). The after Christmas discount sales always seem to be the cheapest.  Also, buy in bulk where you can. It works especially well during all the school sales.  Check the back to school flyers and stack up on glue sticks, markers, crayons etc.   You can often find items for a quarter of the price(sometimes even less) than normal.
You also might be surprised to learn that garage sales are a wonderful place to look for craft supplies.  People think that they are going to do a project, buy all the supplies and then never find the time.  I love that about people because it means that they sell it on their garage sale for REALLY cheap.  Sometimes you can even find great items in the free bin.  You never know what you are going to find.  I love a good treasure hunt!
The best tip I can give you is to actually just organize and reevaluate your supplies.  You may be surprised to find a few items that you forgot about hiding in the back of your cupboard or drawer.  I don't know how many times I have purchased something only to find another bottle a few weeks later.  It pays to be organized, plus it just feels good!
Don't forget that you can make a number of craft supplies.  Check out my Homemade Art Recipe Pinterest Board for a wonderful list of DIY art supplies.
W is for…Weather
Embrace Mother Nature with your kids.  Sun, rain, snow and wind all provide unique reasons to get creative and go outside.  Check out these creative ideas for embracing the weather with your kids.
X is for…Xylophone (DIY instruments)
Your kids will have a blast making their own musical instruments.  Check out these wonderful list of creative homemade instrument ideas that are easy to make and all use items that you probably have in your home right now.  Why not make them all and create a band!
Y is for…Yea Forts
Kids love forts!  I am always amazed that a simple box or blanket can transform a regular room into a castle, a fairy house, a pirate ship or any where your kids want to go.  Let your kids lead the building process, they have a wonderful imagination for where the pillows, blankets and boxes need to be placed.  Check out this inspiring list of forts you can build with your kids.
Tips:  Give your kids a flashlight or a couple of glow sticks to explore their new space.  Forts are a great place to read stories.  Match the book with the style to fort…ex. if you built a castle, then read about a knight or a princess, if you built a boat then you might want to read a story of a pirate.
Great fort building material: blankets, sheets, pillows, backs of furniture, clothes pins, string, boxes, tape and binder clips.  If your are building outside, then snow, sticks, plants, wood…really just let your imagination run!
Z is for…Zone for Crafts
Create a fun area in your home that is designated for your kids crafting supplies or area to do homework.  Kids love having a special space that they can call their own.  Check out these inspiring craft zones all set for your kids to get creative in.
I have really enjoyed this ABC series of Crafting on a Budget.  If you have missed any of the series, click on the below links to catch up.  Each post is packed full of wonderful, inexpensive ideas on how to craft with your kids.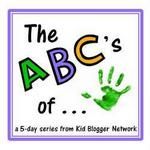 Crafting on a Budget Letter A ~ E
Crafting on a Budget Letter F ~ J
Crafting on a Budget Letter K ~ O
Crafting on a Budget Letter P ~ T
Crafting on a Budget Letter U ~ Z (Today's Post)