Being a busy mom of 3 creative kids, carving out time to craft with them is a priority for our family.  Since we don't have a huge budget for purchasing the latest craft supplies, I have become quite skilled at looking at ordinary items in new ways.  I can't wait to share my thrifty tips and tricks in this fun new series, The ABC's of Crafting on a Budget.   My goal with with my ABC series is to create a resource for frugal moms who want to create, craft and experiment with their kids but do not want to dip too deep into their pocket book.
I will be posting this exciting new series January 7th and run through January 11th.  I am participating as part of the Kid Blogger Network's ABC's of…series, and I have compiled an extensive list of frugal craft ideas from A-Z.  My series is packed full of ideas on how to enjoy crafting with our worrying about purchasing expensive craft supplies.  It is designed to encourage Mom's to look at things they have around their house in a new way, and get creative with their kids.  By the time this series is over, your recycle bin will become your go-to store for "shopping" for crafting materials:)
Since I have so many wonderful ideas to share with you, I have broken the series into 5 easy to follow posts.  As my posts go live, I will be updating the links here.  You may want to Pin or bookmark this page for future reference.
Crafting on a Budget Letter A ~ E
Crafting on a Budget Letter F ~ J
Crafting on a Budget Letter K ~ O
Crafting on a Budget Letter P ~ T 
Crafting on a Budget Letter U ~ Z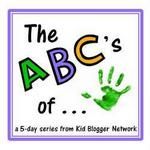 There are about 70 other creative KBN moms participating in this exciting series.  You can
go here
to find the entire list of all the blogs participating.  Since we are organized into separate categories, I added the other crafty Mom's that are also participating in the
 Arts and Crafts category.
Check out this amazingly creativelist including the ABC's of…