I am having so much fun with the ABC's of Crafting on a Budget!  If you are just joining us, then you will want to catch-up by going here  to find the entire ABC's of Crafting on a Budget posts.  We are now on Day 4 and we will be looking at the letter P-T.
P is for…Paper Goods
I'm sure the first thing that comes to your mind when I mention kids paper is…construction paper.  Yes it comes in many exciting colors and it is often reasonably priced, however there are so many more exciting options waiting to be explored.  Lets look beyond the regular construction paper and printer papers into more excited papers.  Here are a few of my favorites.
 Check out these adorable Up-cycled Paper Puppets.  They are perfect for putting on a puppet show.  The best part is they can be created from recycled wrapping paper and packing paper.
I love making simple toys with my kids.  Check out this simple Thaumatrope craft that is so easy to make.  Your kids will think that you are magical when they see how it works.
Who doesn't love a fun paper chain craft.  Turn your ordinary paper chain into a wonderful Paper Chain Dragon.  Since paper chains are so easy to create and can be made from almost any type of paper they are one of my favorite crafts to make with kids.
Your kids will have fun flying these simple DIY Paper Kites.  The best part is they are created from things you should have in your cupboards.
Create wonderful Newspaper Hats with your kids.  They are perfect for Easter, Halloween, the dress-up box or really any occasion:)
Paper plates are cheap, especially if you purchase them at the dollar store.  Check out these adorable Paper Plate Birds.
Also don't forget about Wrapping paper, junk mail, envelopes, magazines, wall paper, pant chips, paper bags, crepe paper, newspaper, wax paper, freezer paper, chromo paper, litmus paper, carbon paper, paper doilies, paper plates and handmade paper just to name a few:)
Also check out my Paper Plate Pinterest Board for more paper plate craft inspiration.
Q is for…Quantity – Large Group Crafts This may be a dreaded category for some of you.  Although, crafting in a large group of kids can be fun.  I won't promise you mess free, but the kids will have a blast!  Here is a fun list of crafts that are budget friendly and would be perfect for your next birthday party or kid event.
 If you are hosting a girl party, then these Rhinestone Flip Flops would be the perfect thing to make.  They are easy to make and relatively mess free.
I love these simple Popsicle Puppets
My kids love making friendship brackets although you may not have enough time to finish a bracelet at a party.  That is why these Fastest Friendship Bracelets Ever are perfect.  They can be finished quickly and they look great!
 I love this easy to make Snowy Owl Craft.  Perfect for young kids.
These little Paper Mache Light-up Globes are perfect if you are not worried about a little mess.  Make sure you allow enough time for them to dry time.  We made ours over a weekend.
This Art Birthday Party is perfect for creating with your friends.  Everything about this party is centered around being creative and having fun together.
R is for…Recycle Bin By now you may have guessed that my recycle bin is my "go to store" for kids crafting items.  It is the perfect place to find a wonderful set of materials and the best part is that everything is free.
Don't forget about these other fun items you might find in your bin as well: Tin cans, cereal boxes, junk mail, produce containers, water bottles, paint chips, magazines, glass jars, plastic jars, styrofoam, milk jugs, yogurt containers, tissue paper, bottles, shredded paper, book pages, boxes, newspaper, bottle caps, candy wrappers, toilet paper rolls and paper towel rolls.
For more recycling and up-cycling inspiration then check out my Recycle Pinterest Board. 
S is for…Sewing Cupboard
Even if you are not a avid sewer, these simple crafts are something that you and your kids will love.  They use simple supplies that you probably already have in your cupboard.
T is for…Toy Bin
Check out these adorable ideas inspired straight from your kids toy bin.  Painting with cars is a simple way to get creative with your toys, but check out these inspiring ideas that go beyond the obvious.
Make sure to check back every day this week, so you don't miss any of the ABC series.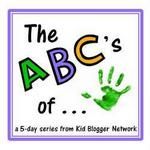 Crafting on a Budget Letter A ~ E

Crafting on a Budget Letter F ~ J

Crafting on a Budget Letter K ~ O

Crafting on a Budget Letter P ~ T (Today's Post)
Crafting on a Budget Letter U ~ Z