This week I am joining in 25+ other KBN bloggers to share our Top 10 Learning Lists with you.  I couldn't be more excited!  We will be sharing all week long, so make sure to check back!  You can click here to view all the summer learning topics.
……………………………………………………………
My kids are counting down the days until Summer Vacation begins and so am I!  There is nothing better than having a full summer packed full of quality time together.  We love being alarm clock free and take full advantage of our flexible scheduled.  However, I still want to be intentional about giving the kids opportunities to learn and grow over the summer.  That is why I am so excited to be a part of this Top 10 learning series.
As most of you know I am passionate about encouraging kids to explore through art.  Lots of the ideas that I will be sharing are easy to do, and so much fun that your kids will forget that they are learning.  Totally a win in my book:)
Top 10 Ways to learn with Paint!
1. Study Great Artists ~ There are so much kids can learn from simply studying a great painting and then trying to mimic the techniques they see.  Take the opportunity to either go to a museum, grab some art books from the library or simple do a little research on line.  There are so many great artists out there that are perfect for getting your kids excited about art and learning a little bit about culture as well.  Here are a few examples of ways to inspire your kids though art and painting
 2. Weather and Paint ~ Kids love learning about weather and how it effects us each day.  Take your kids outside and try painting in all different types of weather to see how it effects their finished piece.
3. The Listening Game ~ this game is great for reinforcing listening skills and the importance of following directions.
Each child will need a sheet of paper, paint brush and a pallet of paints.  Give simple instructions/directions on what to paint.  I love drawing right along with the kids (although I often cover my paper so they can't see what I am drawing).  It is important to remember to only give one set of instructions at a time.
For example, you could describe to the kids how to draw a Robot.  You could say "paint a large grey square in the center of your paper.  Now paint a smaller grey rectangle on top of the large square. Paint 2 blue curly lines moving away from the large square.  At the end of each curly line paint a red circle…"  Continue describing how to paint your robot until the master piece is finished.  The kids will get a kick out of how silly each one looks.  This game works especially well with a group of 2 or more kids following the same instructions.  Continue playing, only this time have one of the kids describe what to paint.
4. Science and Paint ~ Kids are amazed by science, so we combined a little paint and a little science to create fun art!  Check out these great ideas on how to bring a little science into your painting this summer.
5. Sensory paint ~ Paint is a great way to explore your senses.  Touch, feel, smell, sound and taste can all be explored through paint.
6. Color Mixing ~ Place a pallet of primary colors in front of your child along with a black piece of paper.  No need for anything fancy:)  Challenge your kids to see how many colors they can create or challenge them to make a specific color.
If you are working with younger kids, simply invite them to discover what colors they can create.  You can also use ice cube trays or muffin tins filled with colored water and use an eye dropper to transfer the colors around.
7. Painting without Brushes ~ Paint with new tools and discover what type of marks they leave behind.  Leave the brushes in the cupboard, and try some of these fun and new ways to discover your child's inner artist!
8. Read a book and then paint what you heard ~  This is a fun way for kids to make connections with the book that they are reading.  It is a great way to encourage your kids to be imaginative and pay attention to details.  Could work great with a favorite book, or one that you have only read once.  Not only is it encouraging your kiddos to read, but also to listen, and use their imagination.
9. Paint with Air ~ We can't see air, but we can observe it effects on things around us.  Here are some fun ways to explore air with your kids and see how wind works.
10. DIY Paint Recipes ~ Store bought paints are convenient, however it is fun to teach your kids that they can actually make their own paints right at home.
I would love to hear how you keep your kids engaged over the summer and if you have any tricks and tips for using paint to teach your kids.
……………………………………………………………
Here is the list of the other KBN blogs that are participating!  You will want to hop on over and check out their Top 10 Ways to keep kids learning while school is out!  There are lots of great ideas that I can't wait to use with my own kids this summer!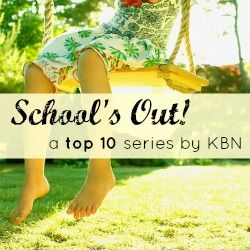 Sunday ~ This Reading Mama | The Educators' Spin on It | Kitchen Counter Chronicle | Rainbows within Reach | Kindergarten & Preschool for Parents & Teachers | Monday ~ Train Up a Child Learn as We Go | Housing a Forest | Royal Baloo | Living Montessori Now | Tuesday ~ Toddler Approved | Play Trains! | 3 Dinosaurs | Wednesday ~ The Outlaw Mom | Teach Beside Me | Hands On as We Grow | Thursday ~ JDaniel 4's Mom | All Done Monkey | Fantastic Fun & Learning | KC Edventures | Playing with Words 365 | Friday ~ Teach Mama | The Usual Mayhem | Nature and Play | True Aim Education | Saturday ~ Creative World of Varya | Craftoart | My Buddies and I