I am so excited to have Jessica from Play Trains guest posting on Housing A Forest today.  If you have a little train enthusiast in your home, then I know you will enjoy her blog too.  It is packed full of engaging train activities that I know you will love.  However, for a fun twist instead of trains, Jessica is sharing a fun Meerkat Small World: a Child-Led Literacy Adventure with us today.
……………………………….……………………………………………………………………………..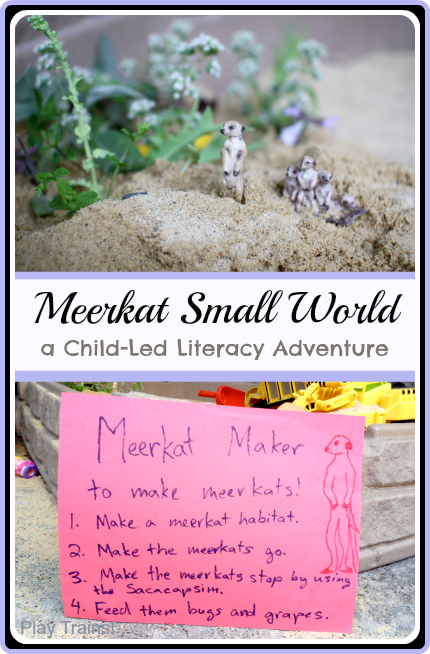 It may come as a surprise to anyone who's visited us at Play Trains! that we have time for anything other than, well, playing trains. But the truth is we also spend quite a lot of time pretending to be meerkats.
The Little Engineer's best friend is a stuffed meerkat named Meekat, whose story I told as an introduction to how I made him his own tiny felt engineer's hat. Most of our meerkat activities include Meekat, but perhaps the most special meerkat experience we've had happened in a place the scruffy little mongoose isn't allowed to go: our sandbox.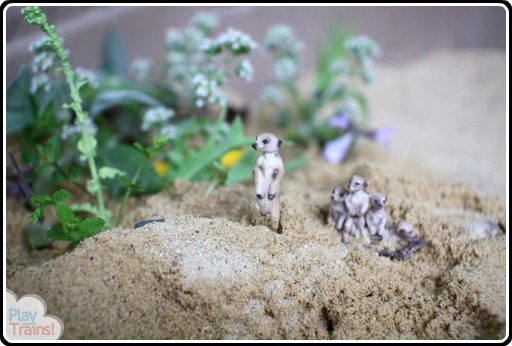 Last summer, we had several meerkat books out from the library. Learning about his favorite animals inspired the Little Engineer to make a meerkat small world in the sandbox. We took Mama Meerkat and her pups out with us and pretended to build a new meerkat habitat at the zoo. We mounded the sand and dug small caves (he wouldn't let me get the sand wet enough for tunnels). From our planters around the play area, we picked herbs and weeds and stuck them in the sand for plants.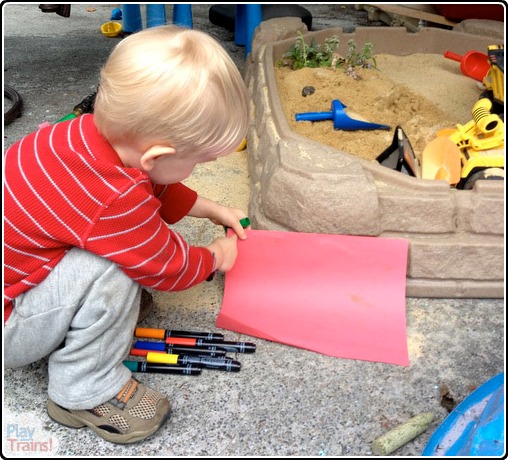 After we'd been working for some time, building and rebuilding the habitat, he asked for markers and paper to write on. My first reaction was to say markers and sand don't mix, but fortunately I took a moment to think it over and went inside to grab them.
He immediately went to work and wrote a sign for the meerkat habitat.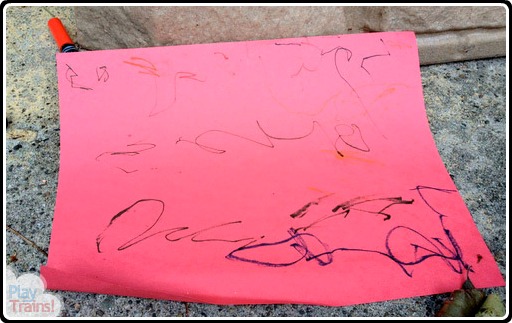 He told me it said, "No taking Meerkats out of the meerkat cage," and, "No feeding meerkats." But he, as the zookeeper, was allowed to feed them bugs, blueberries, raspberries, strawberries, and grapes.
Next, he asked me to write a sign for him as he said the words.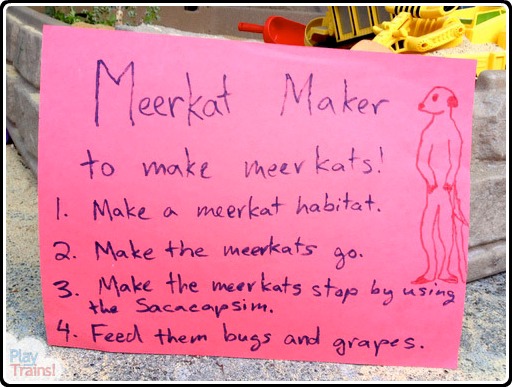 And then then he drew the plans for a meerkat habitat.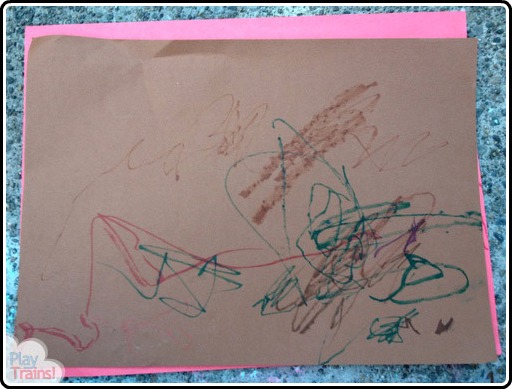 Finally, he asked me to write down his words again as he described what happened in the habitat.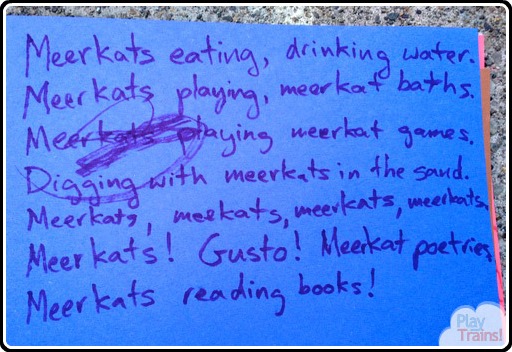 About halfway through, I commented that it sounded like a poem. I think he was emulating the rhythm of one we had recently read. He liked that idea so much he mentioned it in the poem itself.
Drawing attention to what he was doing did seem to break the natural flow of the poem. But on the other hand, it got him to purposefully try to create poetry. And I had to smile when he saw I had used an exclamation point and added his word for them into the poem. He still calls exclamation points "Gusto!" thanks to the way I first described their function to him.
This literacy adventure took no more from me than a simple yes and a willingness to follow his lead. What a beautiful experience it was to watch my child's language skills and imagination blossom in such a relaxed, natural way.
 Play Trains | Facebook | Pinterest | Twitter | Google+
 ……………………………….……………………………………………………………………………..
Thanks so much for sharing Jessica!  What a great reminder to follow our kids lead, and watch the learning unfold.  We all love comments, so why not pop over and visit  Play Trains and tell Jessica how much you enjoyed her post on Housing A Forest.
Here are a few of my favorite posts from Play Trains to get you started: